Why You Should Use An Air Compressor For Car Detailing
What's the best air compressor for car detailing and why should you use one? You can speed up your car detailing or cleaning so much quicker and save time, money, and energy.
Whether you're cleaning cars yourself, for a business, or a hobby, here's why you should be using compressed air in your detailing routine. There's a nice video at the end too.
You should use an air compressor for car detailing for a multitude of reasons. Air compressors can help blast debris that are normal hard to reach out of wheel wells, under the hood areas, and can also be used to blast dirt out of your carpets or dashboards. The best air compressor for car detailing is the California Air Tools 8010.
Key Takeaways:
An air compressor can help speed up the detailing process significantly
You actually need an air compressor for specific detailing tools (there are electric and air polishers as an example)
They're a great investment for other projects as well
When purchasing a compressor consider how much PSI, size of the air tank, and it's maximum pressure.
You can purchase many attachments to utilize them for many uses such as tire inflation, blowing dirt out of hard to reach areas, and using air-powered tools.
They are essential if you want to take a detailing business to the next level
There are many different types of air compressors so know how the work is significantly helpful
An air compressor for car detailing provides access to many extra tools and benefits.
What makes air compressors for car detailing essential?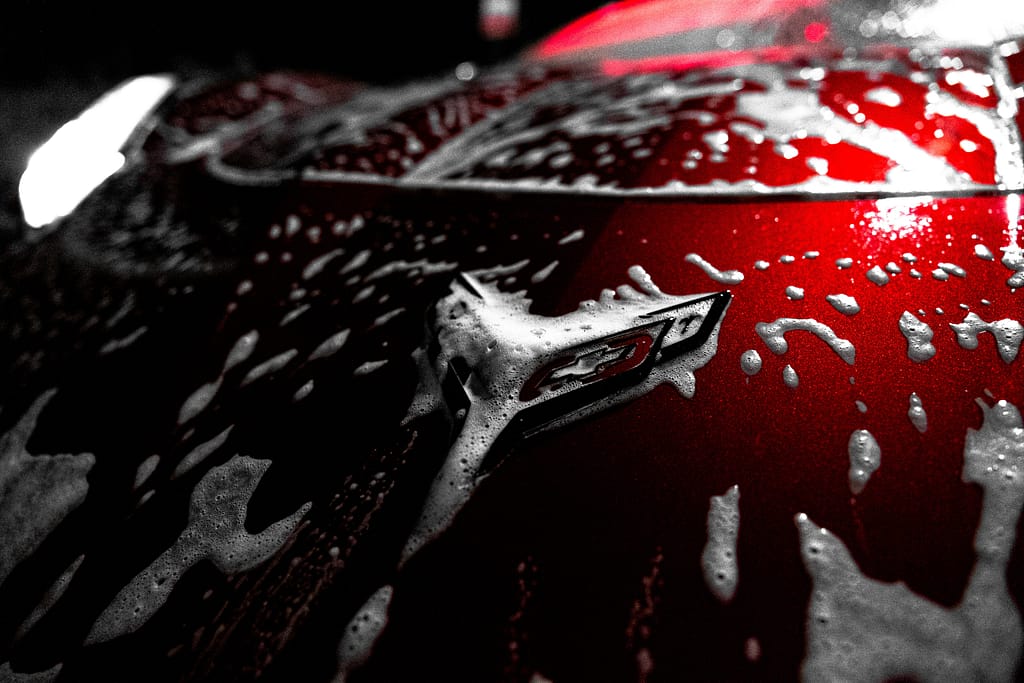 The magic of the air compressor is in the name: compressed air. This robust, on-demand tool is revolutionizing the auto detailing industry, reshaping how we approach car washes and redefining standards of clean.
The Utility of Air Compressors in Auto Detailing
When you use compressed air in auto detailing, you're employing a workhorse. Mimicking the role of a high-powered blowgun, the air compressor makes short work of stubborn dust and debris, tackling hard-to-reach spots with directional bursts of air pressure.
The Role of Compressed Air in Car Washing
In car washes, compressed air reigns supreme. Think of it as your personal tornado, whipping through tight corners and intricate under hood components with forceful gusts. This cleaning gun blasts away any lingering dust, dirt, and grime to achieve an impressive clean.
Why Choose an Air Compressor For Car Detailing?
If you aren't using an air compressor in your detailing setup yet, you're missing out. It's running rings around traditional detailing tools, winning on portability, power, and performance versatility.
Compressed air is your passport to deeper, more rigorous cleans—think California Air Tools 8010-level excellence, wherever, whenever.
An air compressor provides a plethora of benefits other than just detailing. If you have a sunroof, the drainage wells typically tend to get clogged, you can use an air compressor for car detailing to blast these out as they have enough power to handle this.
What's The Best Air Compressor For Car Detailing?
Not all air compressors are created equal, and selecting the best one for your detailing business is a decision not to be taken lightly. Here's everything you need to know before you make your choice.
Max PSI
CFM Rating
Tank Size
Power Requirements
Portability
Let's look at the smaller sized more portable units and the ones with larger tanks that are stationary at home.
Decoding Terms: PSI, CFM, and Tank Size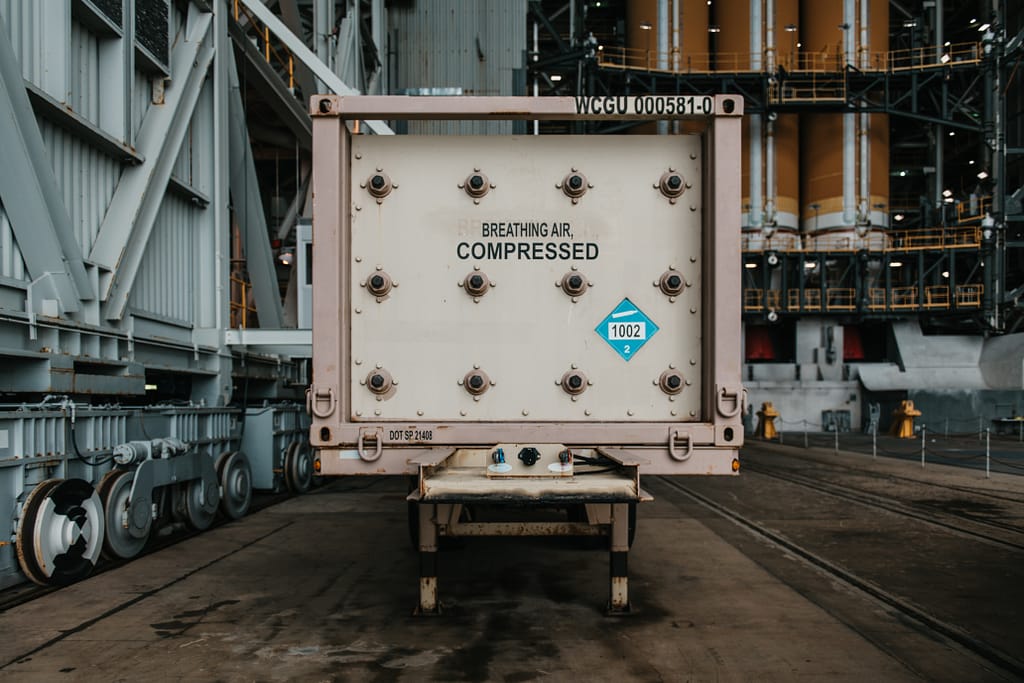 Start from scratch by mastering the language of air compressors. PSI (Pounds per Square Inch) and CFM (Cubic Feet per Minute) are vital indicators of power capabilities, while a generous compressor tank size like 20 or 30-gallon can ensure continuous operation without undue pauses for refills.
A 20 or 30-gallon tank is pretty extreme and is more for a stationary setup. If you plan to be mobile detailing, read below.
The more PSI that can be pushed through an air compressor means it increases how powerful it is. Where as the CFM is how much it can generate and keep up with. This is important to know when using attachments like the blow gun, sending too much pressure can cause damage to equipment and tools.
Buyers Guide: How to Choose the Best Air Compressor For Car Detailing
The best air compressor for car detailing needs to deliver on performance and portability. Compact models like the Bostitch BTFP02012, Makita MAC5200, or a Pancake Compressor could steal the show with their impressive CFM rating and travel-ready designs.
Portable vs Industrial Air Compressors: Which One Fits Your Needs
While industrial air compressors boast immense power, they may not necessarily be the best fit for your mobile detailing business. Balance your need for air pressure with the portability demands of your operations, and you'll find your happy medium.
The best air compressor for mobile detailing – compressed air on the go?
Now for the fun bit: exploring the game-changing air compressors shaking up the car cleaning industry. Spoiler alert: the choice is vast, and each model brings something unique to the table.
Air compressors can be used to blast dirt out of car carpets, seats, and other hard to reach areas, making them greatly worth the investment.
Review: California Air Tools 8010 – The Industry Choice
The California Air Tools 8010 is the staple of auto detailing, delivering superb results with every use. With a tank size of 8 gallon, a 2.2 CFM rating, and 5.2 PSI, it's a serious contender for the best air compressor out there. Most mobile professional detailer shops prefer and use this one specifically.
Benefits:
Oil-free pump design
Ultra quiet
Portable with wheels
2.20 cfm at 90 psi (3.10 cfm at 40 psi)
1.0 HP motor
Overall only 48 pounds
Low amp draw (8.5 amps)
Comes complete with filter and wheel kit
This is easily the best air compressor for car detailing that money can buy and it usually isn't that expensive. You can get your hands on one below: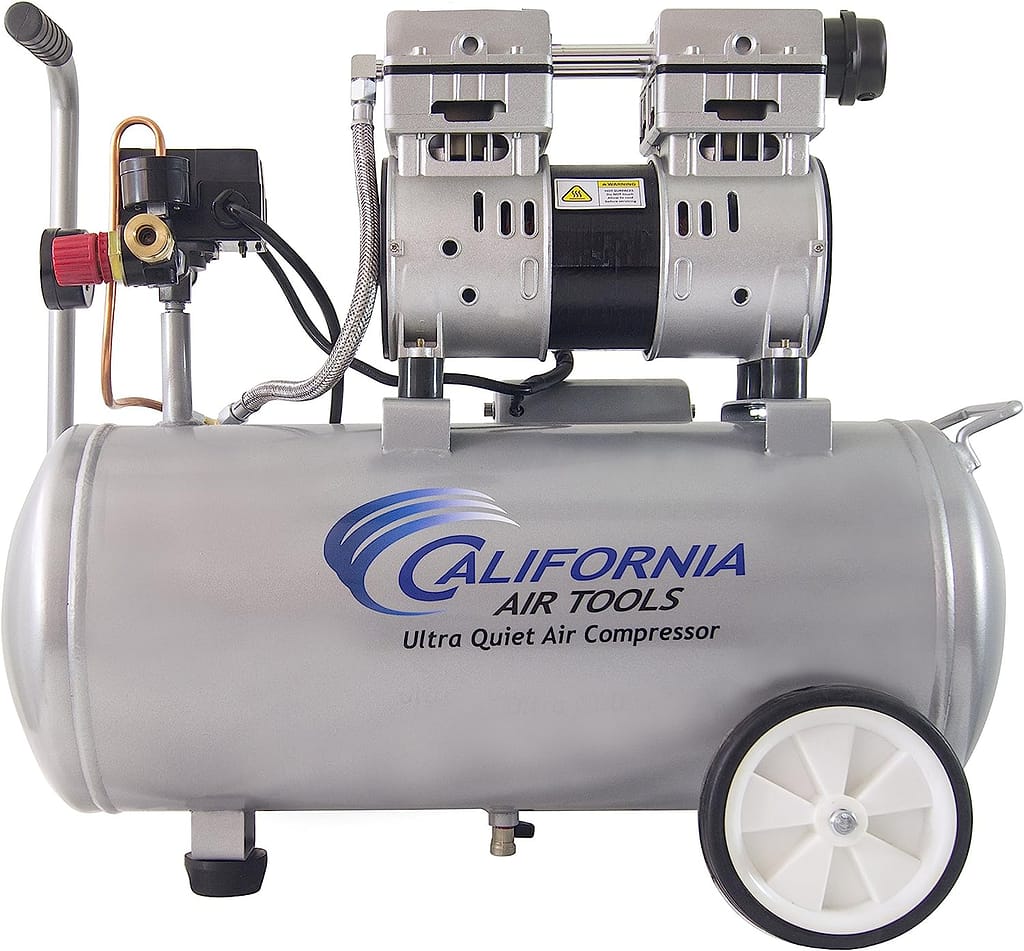 With over 300 sold in the past month, it's no wonder why this air compressor easily takes home the gold.
This is by far the most popular options for any mobile detailer or at home use. It's cost effective, works great, and is easy to make portable.
Review: Bostitch BTFP02012, Makita MAC5200 – Best Mid-Size Options?
These mid-size champions may be an excellent fit if you're looking for something more portable than the California Air Tools 8010 without compromising on performance.
Bostitch BTFP02012
Benefits:
Oil-free pump
6 gallon tank
2.6 cfm at 90 psi
Incredibly lightweight (29 pounds)
Makita MAC5200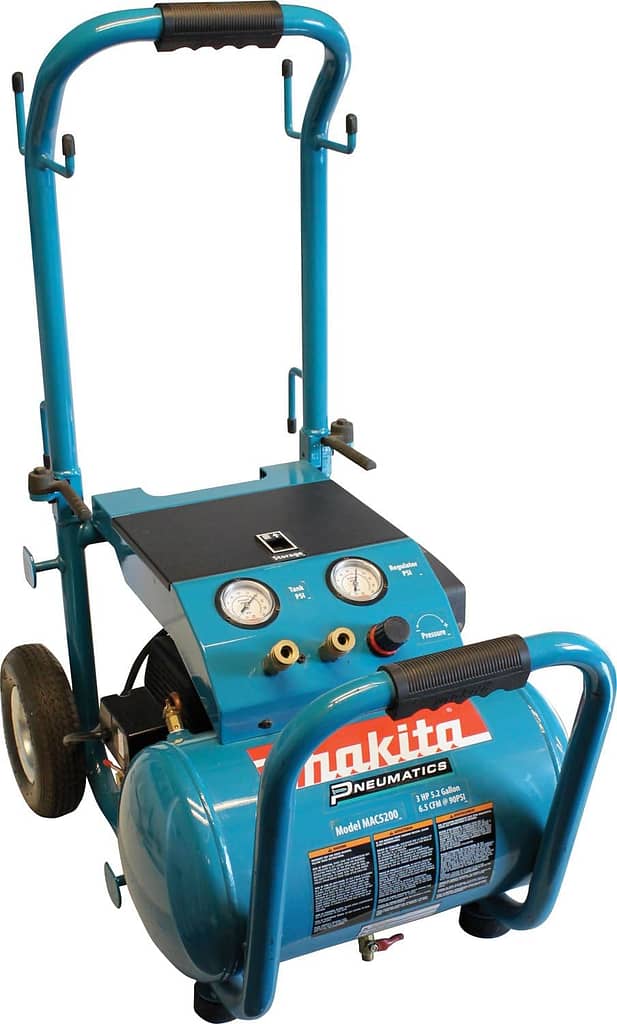 This is more if you're looking for a portable power house ready to dump mass amounts of air within seconds at a time. This has a higher cfm and can push much more. The cart design is also nice as well.
If you need something to push a little harder and don't want to sacrifice portability, this is the way to go. It has a higher price point, but is worth it in the long haul. Recommended for more advanced detailers.
Benefits:
Oil lubricated pump
3 HP motor
6.5 cfm at 90 psi
Built in storage
Cart design style for easy portability
Breaking Down Compressor Tank Sizes – 20-gallon, 30-gallon, and 6-gallon Choices
Size matters when it comes to the air compressor tank. More gallons mean less need for refills, keeping your detailing business moving smoothly and saving you bonus points for efficiency.
As I stated above. Your 20+gallon tanks are typically going to be more stationary and permanent in home solutions. The 5-8 gallon tanks are going to more portable. Portable smaller models are great for both at home and professional use.
Air compressors are also very easy to maintain.
How to use air tools for better car cleaning results?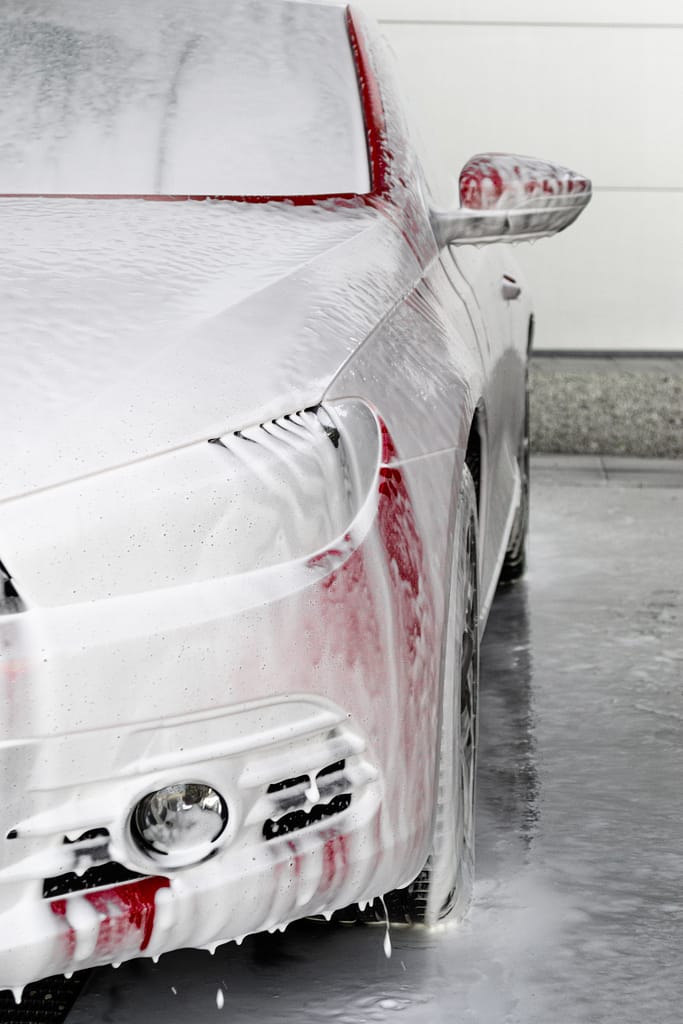 Master the art of compressed air, and you'll see your car cleaning standards ascending to new heights. It's all about finding your own rhythm and striking the balance between power and precision.
Pneumatic tools like the Tornador Cleaning Gun can turn any car wash into a work of art. By harnessing the power of compressed air, these detailing tools deliver spotless, near effortless cleans every time.
Unleash your inner tornado with the Tornador Cleaning Gun. Utilizing the might of compressed air, this detailing marvel leaves no stone unturned, capturing even the most elusive dust particles, leaving your car interiors pristine.
What the Tornador does is uses air to essentially blast or vibrate any loose dirt or pebbles loose as you vacuum so you get everything out.
Boosting Your Engine Bay Cleaning with Compressed Air
Transform your engine bay cleaning routine with the addition of an air compressor. From giving your vehicle a quick "blow-dry" before and after a wash, to blowing off debris, using an air compressor here can lead to impressive improvements.
What practical benefits will you see using air compressors for car detailing?
In practical terms, the impact of using an air compressor in your car detailing business brings tangible benefits that touch every corner of your operations, from speed and efficiency to quality and customer satisfaction.
Efficiency Boost: Quick Car Detailing with Air Compressors
When it comes to speedy car detailing, air compressors play a dream role. These tools can significantly reduce the time it takes to detail a vehicle, not just shortening your task list but also impacting positively your clients' waiting time.
Long-lasting Results: The Impact of Compressed Air on Car Cleaning
The effect of compressed air on car cleaning is nothing short of phenomenal. With their powerful and precision-controlled airflow, air compressors can ensure a deep clean that keeps vehicles looking fresher for longer.
How Inflating Tires Can Be Easier and Faster with an Air Compressor
An air compressor can also help in inflating tires, turning a somewhat tedious and time-consuming task into a breezy affair. Having one in your arsenal is like having extra hands on deck, speeding up this and many other critical tasks in your detailing business or hobby.
While not really related to detailing, it's just a nice feature to have whenever you need it.
Good luck detailers!